If you follow this blog or have heard me speak at various conservation district meetings, you know that I have been talking about the return of La Nina for several months now. We neutralized in the spring, and have not pushed into El Nino territory as some scientists suggested we would. Below is the latest model forecast for the rest of 2011 and early 2012: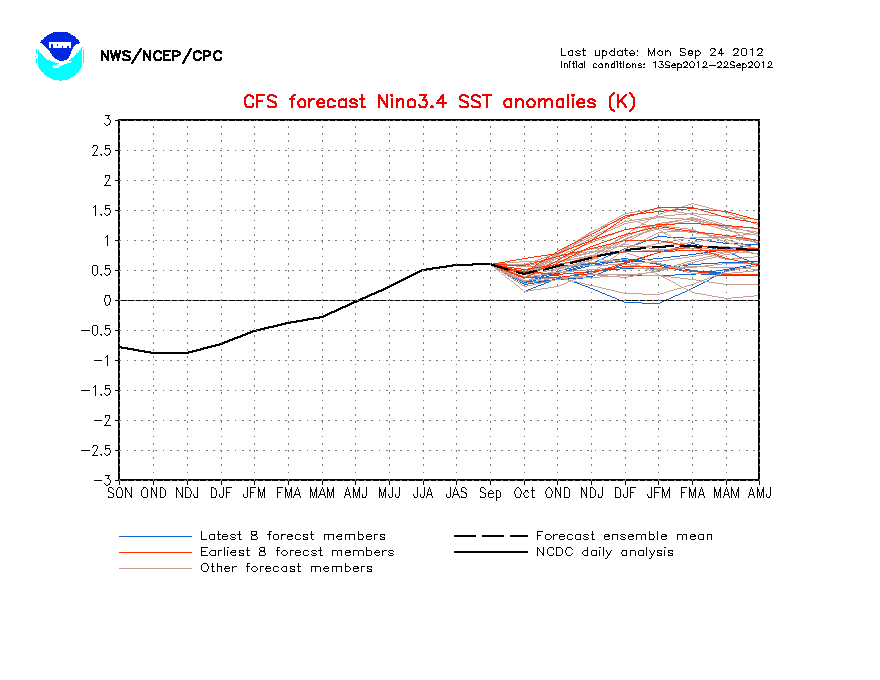 Notice where the model takes us. Not only does it take us to La Nina territory, but possibly a medium to strong event. All of those different lines are different runs of this model, and the majority of them take us back to where we were earlier this year. What history has taught us is that a strong La Nina event when the Pacific Ocean is in the cool phase, is usually followed by a weaker event the next winter. A double header of sorts... I spoke about this a couple weeks ago, but what would this mean? Well, if it indeed comes to fruition, about the same type of weather we've experienced for the past year.
Southern Colorado: A dry, mild, and windy fall, winter, and spring. Last winter, CO Springs had the second least snowy winter on record, so it stands to reason that we won't see much snow in the winter of 2011-12. Most of the southeast plains didn't receive much snow, and that bread a drought that is still going on. The southern mountains did better, in contrast to the plains.
Northern Colorado: A dry, mild, and windy fall and winter. The plains would remain pretty dry in the fall and winter, but the patter would likely break in the spring. Now the drought has been over for the northern part (east of the mountains) of the state for the past several months. So, they have a ways to go before getting back to drought status. The northern mountains received a ton of snow last winter, and will likely have another very snowy winter in 2011-12.
So unless we see a sustained period of drought relief here in the next two months, the current drought will not only not be erased, but will become much worse. I am going to be posting a lot more on this in the near future.
Chief Meteorologist Brian Bledsoe