Seems like we just got rid of here, right? Yup, La Nina waned this spring, but left a huge atmospheric footprint that contributed to widespread drought in the southwest US.
The drought monitor says it all, doesn't it? Exceptional drought runs from New Mexico to the Florida Panhandle. All courtesy of La Nina...
Notice that virtually no colder than normal water exists off the west coast of South America. In fact, even a little warmer than normal water exists. El Nino perhaps? Nope, I think not...
History shows that after a very strong La Nina the previous year, things will neutralize in the late spring and summer, before coming back as a weaker version in the fall and winter. I firmly believe this is the case. If you read this blog or have seen me speak at any conservation district meetings or other drought seminars, you know this. This year mirrors the trend of 2008 and has been doing so for a while now... No reason to think it won't continue this track, as it did just a couple years ago.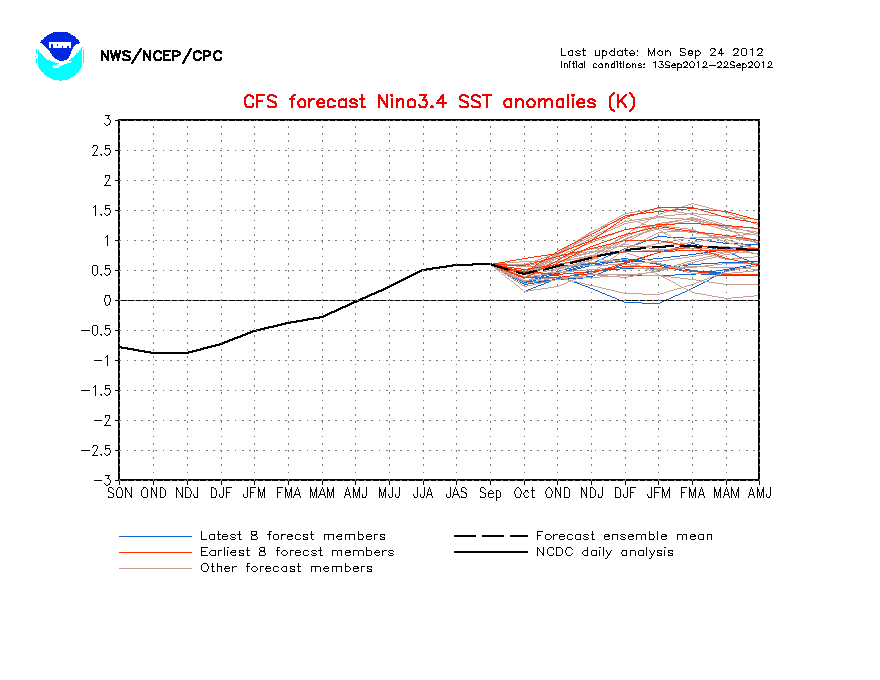 The above graph shows the status of La Nina last fall and winter, and then the weakening late this spring. The CFS Model also shows a return to La Nina status as early as late this summer. Rather it comes back late this summer or not is still undecided. I do think it will come back in a big way this fall and likely linger through early next spring. The above model had no hint of this back in March, when we were talking about La Nina coming back in the fall of '11. But, the model was ignoring history. See there is still a use for humans afterall...lol.
Bottomline, I would prepare for a dry fall and winter, and possibly most of next spring. We had the second least snowy winter on record in CO Springs this last winter. I am afraid it will likely be another dry one... Time for that to change, but I am not betting on it...
Chief Meteorologist Brian Bledsoe