The numbers won't be official for days, but this was a deadly week of weather for several locations across the country. From blizzard conditions, to wildfires, to huge tornadoes, it is a week that will likely go down in history... Keep in mind, the tornado reports are just reports. Many of the reports are likely duplicates of the same tornado. A conservative way to adjust that is to shave about 30 to 40% off of the report number and you will have an estimate of tornado numbers.
Last weekend, it was Iowa that got us going with tornadoes. Several damaging tornadoes touched down in western Iowa, some of them over a mile wide. The worst one struck the town of Mapleton, Iowa:
The above tornado was classified as an EF-3 with winds over 150 mph. Other tornadoes equally as large occurred that evening, bringing a lot of destruction to several communities of western Iowa. Below is the Storm Prediction Center storm reports for that evening: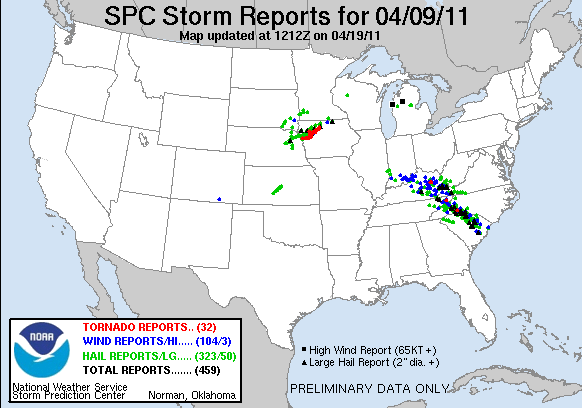 Most of the week was quiet, until Thursday. A classic severe weather setup occurred in the Southern Plains, and put Kansas, Oklahoma, Texas, Missouri, and Arkansas under the gun. A strong storm ejecting from the Rockies touched the whole thing off... Here is the satellite image of the storm on Thursday afternoon:
Pretty impressive, eh? While the south was getting blasted with storms, western Nebraska, far northeast Colorado, and northwest Kansas was getting hit with heavy snow. Several roads were closed due to 60 mph wind and the heavy snow. Unfortunately, this was just the beginning to a deadly upcoming weekend... Below is the SPC storm report graphic:
On Friday, the same system continued to move east and the situation would only get more volatile. A huge tornado outbreak unfolded in Mississippi and Alabama. Several tornadoes touched down and many of them were very large. SPC Map below: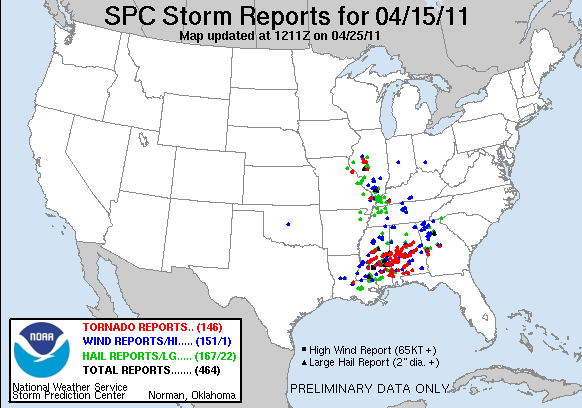 This system wasn't done. On Saturday, it went eastward and hit the Carolinas and the mid-Atlantic states with a tornado outbreak of their own. The tornado outbreak that struck North Carolina on Saturday, is likely the worst on record. An outbreak in March of 1984 held the previous record, and this will likely surpass it. SPC Map Below: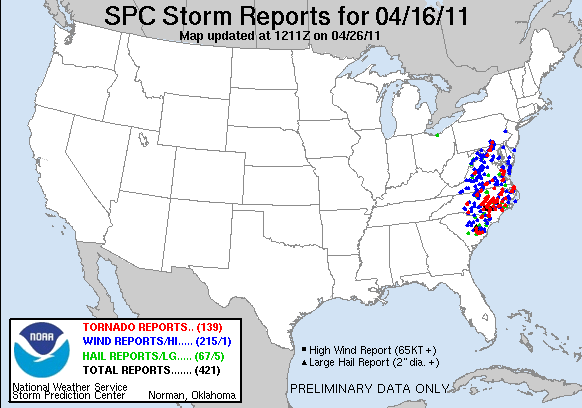 When Saturday was complete, the three day death toll was up to 48. There are still many people that are in the hospital sufferring from critical injuries. The death toll may continue to climb...
Lost in the three day outbreak, was a wildfire outbreak that occurred in Texas. Strong wind produced by this storm swept across Texas on Friday. Texas has been dealing with a severe drought, and the recipe was perfect for wildfires to erupt. Below is the visible satellite image from Texas this past Friday:
Those white streaks are not clouds, they are smoke plumes from huge fires. Over 700,000 acres has burned in Texas. These aren't just the run of the mill wildfire, as several of them burned over 50,000 acres. Below are a few snapshots of what fire fighters had to deal with:
The above pictures are from the Swenson Fire that has burned well over 100,000 acres...WOW!
For more information on all that happened this week, please feel free to google and YouTube. There are many videos from storm chasers that captured the raw power of the tornadoes, many of which were quite violent. Later this week, another severe weather outbreak is likely to hit the middle Mississippi Valley. Hopefully, this one will be less violent than this last week...
Chief Meteorologist Brian Bledsoe